Welcome to Evolve wiki!
 This is a collaborative community wiki about Evolve, the co-op FPS game by Turtle Rock Studios. All pages can be edited, and you are welcome to join us and contribute to this wiki! All information posted, except in discussions, must be valid and confirmable. Leaks or speculation will be removed. 
About Evolve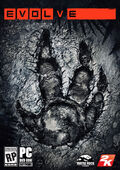 Evolve is a cooperative survival shooter developed by Turtle Rock Studios for the PC, Playstation 4, and Xbox One. It was released on February 10, 2015.
In the distant future, humanity has traveled through the void of space, explored distant far off planets, colonized and terraformed them, fought in many wars and discovered new sources of energy, expanding into the far arm of the galaxy. Now, attention has fallen upon Shear, a recently colonized planet filled with strange new wildlife and rich resources. As mankind attempts to tame the planet, they discover that they're not alone in the universe. Strange, alien, intelligent Monsters have appeared and appear to be doing anything in their power to destroy the colony and kill its inhabitants. As the situation turns catastrophic, an elite team of Hunters consisting of heroes, veterans, scientists, psychopaths and spies have assembled to evacuate the planet's colonists and save what's left of Shear.
Monsters
Hunters
| Assault | Medic | Trapper | Support |
| --- | --- | --- | --- |
| | | | |
| | | | |
| | | | |
| | | | |
| | | | |
| | | | |
Featured Video
About Turtle Rock Studios
Turtle Rock Studios is a Southern California based game company famous for creating the hit FPS games Left 4 Dead and Left 4 Dead 2. Evolve is their next project.
Twitter
Social
Community Blogs
Hello editors! Im looking for a designer for the wiki! If your interested please upload some of you…
Night Hunter Trapper skins, and Man O War Kraken skin, now available on all platforms!
Buy here:
Nigh…
HI!, if you like Evolve and want to improve the wiki please give suggestions on how it can improve!…
See more >
Resources

Official Evolve Facebook Page


Official Turtle Rock G+ Page


Official Turtle Rock Twitter
𝐵𝑢𝑖𝑙𝑑: ⁴⋅⁴⁵⁰⁰