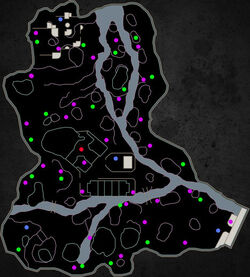 The Refueling Tower is the secondary rainforest map in Evolve on the planet Shear.
Modes - Hunt, Rescue, Nest, Arena.
Environment
[
]
It has a bayou style and contains a junkyard, with flaming rubble scattered from the recent catastrophe. Many dead bodies lie in the center of the map, as permanent food for the monster. Homes around the tower are mostly unaffected -- abandoned, but intact -- and have become the grazing grounds for creatures. A river runs through the length of the map.
Wildlife
[
]
Maximum Elites: 6
Maximum Harpie Chance: 90%
Gallery
[
]
Videos
[
]